Over recent years, the adoption of connected technologies has grown dramatically, with a potential for improving health care delivery, research, and patient experience. The increase in wearable technology, availability of smartphones and mobile devices, as well as growth in connectivity, is transforming healthcare all over the world. 
Over the past decade, connected technology has flooded health product markets with more than 116 million wearables shipped globally in 2018, and forecasts suggest that sales will double by 2023.
Source: https://www.businesswire.com/news/home/20190516005571/en/World-Market-Connected-Wearables-4th-Edition-Shipments).
How connected devices are being used in clinical research
The application of connected devices in clinical trials usually refers to collecting objective data remotely that can be used to understand more about the effects of the investigational treatment or therapy.
Some of the main categories of digital technologies include but are not limited to:
Wearables –

i.e Wrist-worn sleep and activity trackers, heart rate monitors, blood glucose meters, etc. 
External sensors –

Bluetooth-enabled body scales, spirometers, etc.

Ingestibles –

i.e Smart pills used to capture acidity in the digestive tract.
As shown in the graphic below there are also mobile applications that can monitor data remotely. They leverage the built-in smartphone or tablet sensors to provide health and wellness measures. We've all heard or even used the daily steps tracker which is measured by the smartphone accelerometer in our pocket or bag.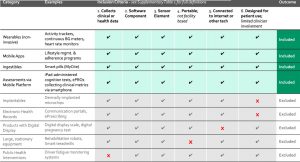 Source: Marra, C., Chen, J.L., Coravos, A. et al. Quantifying the use of connected digital products in clinical research. npj Digit. Med. 3, 50 (2020). https://doi.org/10.1038/s41746-020-0259-x
Although many connected digital products have been primarily designed for nonclinical consumer use, clinicians and researchers can also use these products to capture real-time behavioural and physiological data from patients outside the clinic (e.g., heart rate, step counts, and sleep patterns). Believe it or not, digital products for remote monitoring of patients have been used in clinical trials for decades, i.e Holter monitors and continuous blood glucose meters. 
In order to understand better how connected technologies have been used in clinical research through the years, we deep-dived into an interesting study conducted by Marra, C., Chen, J.L., Coravos, A. et al. and their analysis entitled Quantifying the use of connected digital products in clinical research.
The study considers the entire landscape of clinical research across disease areas and trial types, aiming to quantify the rate of adoption of connected digital products in registered clinical trials. Furthermore, they provide detail as to the various ways trial sponsors are using digital products in clinical trials. 
Using 18 years of data from ClinicalTrials.gov (2000-2018), they document substantial growth in the use of connected digital products in clinical trials with a compound annual growth rate of ~34% and show that these products have been used across all phases of research and by a diverse group of trial sponsors.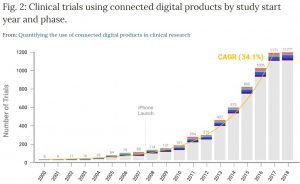 Source: Marra, C., Chen, J.L., Coravos, A. et al. Quantifying the use of connected digital products in clinical research. npj Digit. Med. 3, 50 (2020). https://doi.org/10.1038/s41746-020-0259-x
An important observation of the study is that both industry (e.g., pharmaceutical and medical device firms) and nonindustry (e.g., government and nonprofit) organizations have been involved in sponsoring trials that use connected digital products. Since 2000, ~19% of trials using a connected digital product (nearly 1200 trials total) have included an industry sponsor or collaborator. The mix of trial sponsors also appears to have shifted over time to include more trials led by non-industry funders.
Types of connected digital products used throughout the years
According to the study, Holter monitors, activity watches, and continuous blood glucose monitors were the primary types of connected digital products used in trials prior to the year of the iPhone launch (2004-2007)  whereas, in the most recent years (2015–2018) smartphone-enabled technology and mobile applications have become the most commonly used types of connected digital products. Devices have been used for different purposes, including testing the digital product's clinical usability, capturing endpoint data to measure the impact of an intervention or using the product as an intervention itself (e.g. digital therapeutic).
Future outlook
With the increased attention on the use of connected devices in clinical trials across the industry, there is a high potential for greater adoption ultimately leading to the development and validation of novel endpoints. The innovation in this area provides an exciting outlook for the future as such technologies introduce new opportunities to improve the efficiency of clinical trials. 
The benefits of connected digital products are numerous, including more robust and continuous data measurement leading to richer insights to better understand treatment effect. This would potentially decrease the need for large sample sizes of individual participants and increase the speed at which adaptive trial decisions can be made. Moreover, connected digital products that collect real-world evidence can enable novel ways of conducting research like decentralized or virtual clinical trials – i.e., studies conducted outside of the physical boundaries of the clinic. Such approaches are the right path towards more engaging trials where patient-centricity is guaranteed and the burden for trial participation is significantly reduced. 
The statistics are also showing a positive trend for the years to come. According to 360iResearch, the Global Connected Medical Devices Market is expected to grow from USD 20,250.84 Million in 2019 to USD 64,912.56 Million by the end of 2025 at a Compound Annual Growth Rate (CAGR) of 21.42%.
We are witnessing a transformation of the clinical trial process occurring at hyper speed. For the last 5 to 10 years, some solutions have been deemed too risky for pharma. Now the risk of not implementing them has become greater than doing so.
As mentioned by Estrella Garcia, the Global Clinical Operations Director at Almirall in a video interview by TrialHub "Digital tools are here to stay, they are the present, not the future anymore". Technology won't replace people – instead, it will empower us to do more with less time. More efficient, more technology-reliant clinical trials are the future of research.