Prevalence, Past Experience, and Competition
Pancreatic cancer begins in the pancreatic tissue and unfortunately, it's rarely diagnosed at its earliest stage when it's the most curable. Symptoms often don't manifest until later on when the cancerous cells have spread to other organs and tissues.
If you're interested in the whole therapeutic area of Oncology and how it was impacted by Covid-19, check our 2021 Clinical Research Market Overview.
Prevalence
Pancreatic cancer is the seventh leading cause of cancer-related death worldwide. There is a trend for a higher prevalence in more developed countries (this is the third most common death from cancer in the USA).
According to GLOBOCAN 2018, there were 432,242 new deaths caused by this cancer and 458,918 new cases reported. At the same time, 355,317 new cases are estimated to occur until 2040.
The other characteristic of pancreatic cancer is that despite all research done in the space, only 9% of patients survive after 5 years of diagnosis.
To date, the causes of pancreatic carcinoma are still insufficiently known, although certain risk factors have been identified, such as tobacco smoking, diabetes mellitus, obesity, dietary factors, alcohol abuse, age, ethnicity, family history, and genetic factors, Helicobacter pylori infection, non-O blood group and chronic pancreatitis.
Early detection of the disease is challenging, though new technologies arise. This all makes pancreatic cancer an interesting area of research leading to a lot of focus on clinical trials with different purposes.
Countries with past experience in Pancreatic Cancer clinical research
The way we usually measure the research experience of a given country is by calculating the number of trials performed for a million people. The map below shows on a global level which countries had more clinical trials than others compared to their population: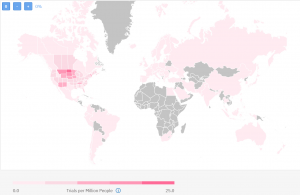 The regions with the darkest red are the ones with the most previous experience running clinical trials in pancreatic cancer. There are 988 completed trials or in expanded access. In the last 3 years alone there were 214 studies completed.
The countries with the most completed trials are the USA (599), Germany (75), and Italy (64). Of course, they have the most sites with experience in the space but what is really interesting is that the USA has almost 20 times more sites compared to Germany (the second country with the most historical research).
If we look at the number of trials completed divided by the number of people who live there, then the ranking of countries looks different. Here are the top 5:

Belgium has really big and experienced research centers though population-wise it's not the top country in Europe and worldwide.
This makes Belgium in a lot of cases the top country with experience and numbers of studies done per million people. The total number of completed pancreatic clinical trials in Belgium to date is 39, where there is a mix between industry and university-sponsored studies, as well as studies in all Phases.
Countries with active or recruiting clinical trials
In the last 3 years, clinical trials in pancreatic cancer have doubled due to the fact there is a real untapped need of patients as well as progress in technology and science. At the moment there are 1,434 active, recruiting, or not yet recruiting clinical trials. Of them, the recruiting ones are 889.
The countries with the highest number of trials are the USA, Japan, China, and Germany. Though if we want to measure the competition level when it comes to patient recruitment, it's best to measure trials versus population.
Based on trials per million people the top countries with the highest competition are as follows:

On this map you can also get a better of the global competition in running clinical trials in Pancreatic Cancer: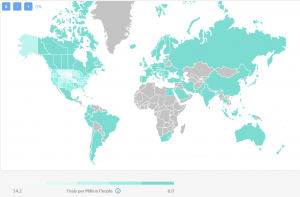 The dark green regions are the ones with less competition. As you can see on the map, although the USA is one of the countries with the most trials in pancreatic cancer, there are certain areas where there isn't much research at the moment.
This presents an opportunity to connect with local centers and partner on including their patients.
If you need more competition data on Pancreatic Cancer or if you are working on multiple indications/TAs you can reach out to us at patientsfirst@findmecure.com.
Recruitment Rates and Trials Performance Statistics
We analyzed 981 clinical trials to check for their Recruitment Rates and assess countries based on their Average Recruitment Rate (patients/ site/ month).
The map below shows the regions with higher ARR in darker yellow. Where the highest is 2.97 patients/site/month and the lowest is 0.06 patients per site per month.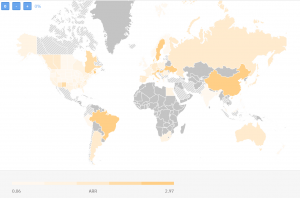 If we look at Phase 3 only ranges vary between 0.12 and 5.92, where Phase 1 and 1/2 have 0.02 and 1.17 patients/site/month respectively. There is also a difference between clinical trials with observational purpose or treatment (highest here has been 2.86).
Looking at the highest recruiting countries, these are the top 5:

It is important to mention that all these rates are based on all sorts of clinical trials. If we are to focus on studies that target treatment, then countries like China, Brazil, and Ukraine are on top with their Recruitment Rates of 2.86, 1.74, 1.39 patients/site/month.
If you'd like to know more about planned vs actual trial performance in this or another indication get in touch with our team at patientsfirst@findmecure.com.
Sites and Investigators
At TrialHub we identified 5776 organizations that have been working on clinical trials for pancreatic cancer. You can see on the map how they are distributed. 5281 of them have had at least one study focused on treatment.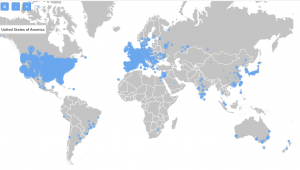 In red we have highlighted the ones that are currently working on trials in Pancreatic Cancer: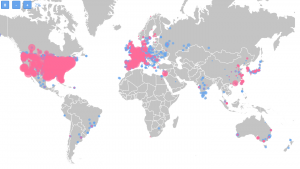 When it comes to organizations that are currently not involved with studies in this indication, out of 2601 we have identified 966.
This is the list of the most experienced organizations in pancreatic cancer research in the countries with the highest number of trials per million people:
Institut Jules Bordet, Belgium
National Cancer Centre Singapore, Singapore
Herlev Hospital – University Hospital of Copenhagen, Denmark
Universitätsspital Zürich, Switzerland
Rambam Health Centre, Israel
There are also a lot of investigators with a background in pancreatic cancer research as well as Key Opinion Leaders in almost all countries where studies have been conducted.
At TrialHub we identified 5,415 such investigators. 4,415 of them have experience in trials focused on treatment. 1,364 investigators have worked on Phase 1 and Phase 1/2 studies.
If you want to see the top 10 investigators who have worked on pancreatic cancer clinical trials, as well as more information about the past experience of the countries and trials' performance, you can get in touch with our team at patientsfirst@findmecure.com.
---
TrialHub is a feasibility intelligence platform that supports feasibility, startup, patient recruitment and clinical project managers with a 360-degree overview of the clinical research landscape in order to plan successful and on-time clinical trials. 
TrialHub does this by aggregating thousands of data sources in real-time and combining them with local experts' insights. 
The data provided in this article is gathered in November 2020 and is based on 17 clinical trial registries (clinicaltrials.gov, eudract.ema.europa.eu etc.) and analytics about thousands of clinical trials.
If you want to get an up-to-date and/or customized feasibility for Pancreatic Cancer or need an assessment about a different indication or TA, please contact us at patientsfirst@findmecure.com