Are you planning a study in Metastatic Breast Cancer? Then you need to be familiar with the clinical research landscape. 
In this article, we'll provide you with a quick overview. However, if you are already working on a protocol you need in-depth feasibility analysis, investigator contacts, and patient recruitment strategy. Most of all, you need current numbers. 
We can support you with accurate data in any format you need it.

Prevalence, Past Experience, and Competition
According to IARC Globocan, 2008, there are about 1.38 million new cases and 458 000 breast cancer deaths each year. This is the most common cancer among women worldwide in both developed as well as developing countries.
The number of deaths mainly depends on the early detection of the disease. In most low- and middle-income countries this happens late (stage 3) and so leads to 269 000 deaths in total for a year.
According to MBCN, 20-30% of breast cancer cases turn into metastatic. Treatment and prolonging the life expectancy as well as improving quality of life in metastatic breast cancer has been one of the goals of clinical studies. This is why the landscape has been very dynamic in the last few years.
There are at the moment a total of 2514 clinical trials related to metastatic breast cancer, some of them completed or terminated, and others still being run: 1614 focused on treatment research, 190 observational, and 8 focused on prevention.
Countries with past experience with metastatic breast cancer research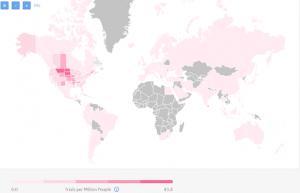 Past experience map from TrialHub
There are 931 completed or expanded access clinical trials worldwide as of today. As you can see on the map most experienced in conducting metastatic breast cancer are 3 US states:
Montana (38 completed trials);
North Dakota (33 completed trials);
South Dakota (27 completed trials).
When it comes to Phases there are completed or expanded access clinical trials in:
Phase 1 and ½: 220
Phase 2 and ⅔: 424
Phase 3: 108
Phase 4: 15
The top 5 experienced countries in the world are:

Belgium has a total of 102 metastatic breast cancer clinical trials. Iceland has 2 trials (yet their population is much smaller so overall they have quite experienced investigators for the area). Singapore has 29 clinical trials in metastatic breast cancer in total, Denmark – 28, and Slovenia – 10. Most clinical trials have been completed in Phase 2 or Phase 3.
Countries with active or recruiting clinical trials
There are 1081 clinical trials not yet recruiting, active, or recruiting patients. Again the United States is quite busy with ongoing research on metastatic breast cancer, but so are some countries like Ireland, Hungary, Austria, and the Scandinavian region too.
Though they traditionally had a lot of research in the space of breast cancer, most of these countries still have available sites with no ongoing clinical trials. In contrast countries like Slovenia, North Macedonia, and Malaysia, and some others have 100% occupied sites.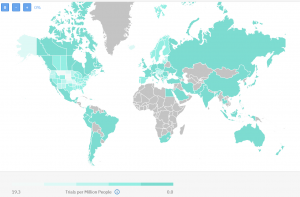 Competition map from TrialHub
The top 5 countries with the most competitive clinical trials per million people are:

Belgium has in total 206 ongoing clinical trials (90 with treatment as a purpose) and 56 of them are actively recruiting patients with metastatic breast cancer. This is how clinical research in Belgium for metastatic breast cancer is spread: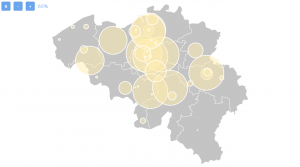 The city with the most ongoing clinical trials is Leuven, where there are 35 studies in total, followed by Namur (27), Charleroi (24), Bruxelles (21), Edegem (20).
Recruitment Rates and Trials Performance Statistics
In our last article, we discussed the past experience and competition of metastatic breast cancer clinical trials worldwide. There is a tradition in conducting of metastatic breast cancer clinical trials.
As of today, there are 931 completed or expanded access clinical trials. In this article, we will analyze their performance in regards to their average recruitment rate.
Here's the TrialHub map comparing countries based on their average recruitment rates (ARR) focusing only on metastatic breast cancer clinical trials: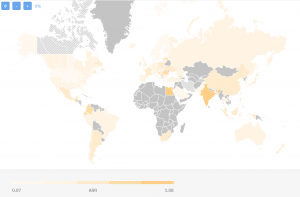 As you can see the ARR varies between 0,07 and 1,08 patients/site/month. This is taking into account all trials being done so far. If we are to limit ourselves for the last 3 years, here's how the landscape would look like: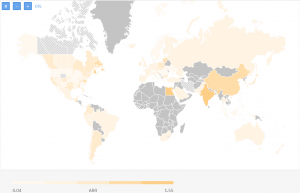 The clinical trial targeting women with metastatic breast cancer with the highest recruitment rate is a trial conducted by the University of Alabama at Birmingham (USA).
The trial was observational and needed 100 patients with metastatic breast cancer to gain knowledge about out-of-pocket (OOP) expenses and lost opportunity costs.
The top-performing trial focused on treatment in the last 3 years was an open-label, single-arm, multi-center, Phase II study. The study aimed to determine the activity of nab-paclitaxel plus lapatinib in the first and second-line setting in women with ErbB2 overexpressing MBC.
The study was sponsored by Novartis and was looking to recruit 60 patients. Its recruitment rate was 138,46 and it was performed only in the USA.
If you are interested which are the top-performing countries in Europe or the best states in the USA (or want to find clinical trials with similar protocol and check their performance), contact us at patientsfirst@findmecure.com
Sites and Investigators
There was and still is quite a lot of metastatic breast cancer research leading to a large number of investigators and sites with experience in conducting clinical trials in the indication.
Of course, most of them are not only doing studies in metastatic breast cancer but rather covering everything related to breast cancer. Depending on the scope of the study there are also a variety of specialists involved in the research. This depends also on the standard of care in a given country and the patient pathway.
Looking at TrialHub we can identify a total of 6314 metastatic breast cancer trial sites that have worked on the indication in the past 3 years.
Here is a map showing how they are distributed geographically: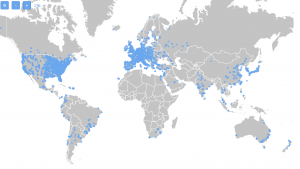 On the map, we can see at first glance that there are regions where there isn't much research going on. These regions are quite underserved which might mean investigators with less experience.
On the other hand, it could also translate to a great opportunity to work with a research-naive patient population that might be more motivated to participate in your study.
If you want to check country details to understand better the country landscape and how relevant it might be for your study, TrialHub works with local experts who can help you get more insights on regulations and timelines, but also inside information on site performance and KOLs.
Let us know at patientsfirst@findmecure.com if you want to learn more about this option.
Yet, let's not forget that there are quite a lot of ongoing clinical trials covering patients with metastatic breast cancer. On the next map, you can see the sites that are currently involved with such studies.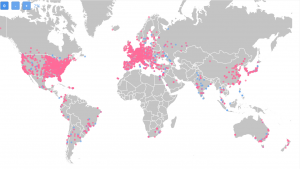 If you already have a protocol and want to learn which studies are directly competing with yours, we can use our filters to identify them and let you know in which sites you will find it more difficult to recruit patients. Ping us at patientsfirst@findmecure.com
The top 10  sites with the most completed clinical trials in metastatic breast cancer worldwide for the past 3 years are:
We have also identified 3092 investigators with experience in metastatic breast cancer and can build for you a customized report with all the relevant investigators and sites.
---
TrialHub is a feasibility intelligence platform that provides biotech and CRO companies with a 360-degree overview of the clinical research landscape. The platform aggregates thousands of data sources in real-time and combines them with local experts' insights. 
The data provided in this article was gathered in October 2020 and is based on 17 clinical trial registries (clinicaltrials.gov, eudract.ema.europa.eu, etc.) and analytics about thousands of clinical trials. 
If you want an up-to-date and/or customized feasibility for metastatic breast cancer or need an assessment about a different indication or TA, reach out to us: patientsfirst@findmecure.com