In our last article, we discussed the past experience and competition of metastatic breast cancer clinical trials worldwide. There is a tradition in conducting of metastatic breast cancer clinical trials. 
As of today, there are 931 completed or expanded access clinical trials. In this article, we will analyze their performance in regards to their average recruitment rate. 
Here's the TrialHub map comparing countries based on their average recruitment rates (ARR) focusing only on metastatic breast cancer clinical trials: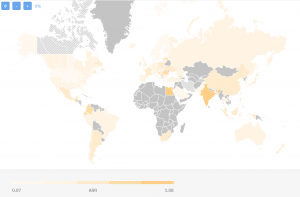 As you can see the ARR varies between 0,07 and 1,08 patients/site/month. This is taking into account all trials being done so far. If we are to limit ourselves for the last 3 years, here's how the landscape would look like: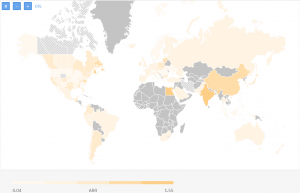 The clinical trial targeting women with metastatic breast cancer with the highest recruitment rate is a trial conducted by the University of Alabama at Birmingham (USA). 
The trial was observational and needed 100 patients with metastatic breast cancer to gain knowledge about out-of-pocket (OOP) expenses and lost opportunity costs.
The top-performing trial focused on treatment in the last 3 years was an open-label, single-arm, multi-center, Phase II study. The study aimed to determine the activity of nab-paclitaxel plus lapatinib in the first and second-line setting in women with ErbB2 overexpressing MBC. 
The study was sponsored by Novartis and was looking to recruit 60 patients. Its recruitment rate was 138,46 and it was performed only in the USA. 
If you want to have a complete overview of the global clinical research landscape in metastatic breast cancer, you can download your Full Feasibility Report by just entering your email:

[activecampaign form=30]
---
About TrialHub and data provided in this article
TrialHub is a feasibility intelligence platform that provides biotech and CRO companies with a 360-degree overview of the clinical research landscape. The platform aggregates thousands of data sources in real-time and combines them with local experts' insights. 
The data provided in this article is gathered on 20 October 2020 and is based on 17 clinical trial registries (clinicaltrials.gov, eudract.ema.europa.eu, etc.) and analytics about thousands of clinical trials. 
If you want an up-to-date and/or customized feasibility for metastatic breast cancer or need an assessment about a different indication or TA, reach out to us: patientsfirst@findmecure.com