According to IARC Globocan, 2008, there are about 1.38 million new cases and 458 000 breast cancer deaths each year. This is the most common cancer among women worldwide in both developed as well as developing countries. 
The number of deaths mainly depends on the early detection of the disease. In most low- and middle-income countries this happens late (stage 3) and so leads to 269 000 deaths in total for a year. 
According to MBCN, 20-30% of breast cancer cases turn into metastatic. Treatment and prolonging the life expectancy as well as improving quality of life in metastatic breast cancer has been one of the goals of clinical studies. This is why the landscape has been very dynamic in the last few years. 
There are at the moment a total of 2514 clinical trials related to metastatic breast cancer, some of them completed or terminated, and others still being run: 1614 focused on treatment research, 190 observational, and 8 focused on prevention.
Countries with past experience with metastatic breast cancer research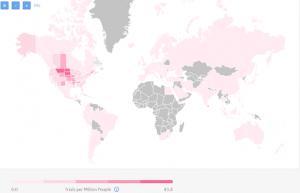 Past experience map from TrialHub 
There are 931 completed or expanded access clinical trials worldwide as of today. As you can see on the map most experienced in conducting metastatic breast cancer are 3 US states: 
Montana (38 completed trials);

North Dakota (33 completed trials);

South Dakota (27 completed trials).
When it comes to Phases there are completed or expanded access clinical trials in:
Phase 1 and ½: 220 
Phase 2 and ⅔: 424 
Phase 3: 108 
Phase 4: 15 
The top 5 experienced countries in the world are:

Belgium has a total of 102 metastatic breast cancer clinical trials. Iceland has 2 trials (yet their population is much smaller so overall they have quite experienced investigators for the area). Singapore has 29 clinical trials in metastatic breast cancer in total, Denmark – 28, and Slovenia – 10. Most clinical trials have been completed in Phase 2 or Phase 3.

To get a complete overview – including trial performance, sites and investigators experienced in this indication, top countries with the highest ARR, and more – get your Full Feasibility Report now.
[activecampaign form=30]
Countries with active or recruiting clinical trials
There are 1081 clinical trials not yet recruiting, active, or recruiting patients. Again the United States is quite busy with ongoing research on metastatic breast cancer, but so are some countries like Ireland, Hungary, Austria, and the Scandinavian region too. 
Though they traditionally had a lot of research in the space of breast cancer, most of these countries still have available sites with no ongoing clinical trials. In contrast countries like Slovenia, North Macedonia, and Malaysia, and some others have 100% occupied sites.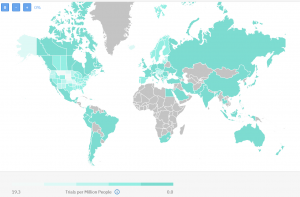 Competition map from TrialHub
The top 5 countries with the most competitive clinical trials per million people are:


Belgium has in total 206 ongoing clinical trials (90 with treatment as a purpose) and 56 of them are actively recruiting patients with metastatic breast cancer. This is how clinical research in Belgium for metastatic breast cancer is spread: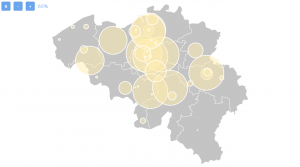 The city with the most ongoing clinical trials is Leuven, where there are 35 studies in total, followed by Namur (27), Charleroi (24), Bruxelles (21), Edegem (20).

If you want to have a complete overview of the global clinical research landscape in metastatic breast cancer, you can download your Full Feasibility Report by just entering your email:

[activecampaign form=30]
---
About TrialHub and data provided in this article
TrialHub is a feasibility intelligence platform that provides biotech and CRO companies with a 360-degree overview of the clinical research landscape. The platform aggregates thousands of data sources in real-time and combines them with local experts' insights. 
The data provided in this article is gathered on 19 October 2020 and is based on 17 clinical trial registries (clinicaltrials.gov, eudract.ema.europa.eu, etc.) and analytics about thousands of clinical trials. 
If you want an up-to-date and/or customized feasibility for metastatic breast cancer or need an assessment about a different indication or TA, reach out to us: patientsfirst@findmecure.com