The majority of clinical trials worldwide are conducted in hospitals or major research institutions, mainly in the bigger cities. This prevents people who live hours away from having the opportunity to take part. Accessibility creates problems for people whose condition doesn't let them travel or drive or those who are working or having family responsibilities. It also creates issues for including diverse and historically underserved patient populations, such as women, elderly and minorities and those who are socioeconomically disadvantaged.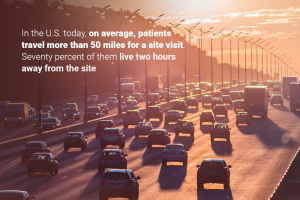 Over the past decade, virtual clinical trials (also known as "siteless", "direct-to-patient" or "remote" trials) have grown in both popularity and usage across the life science industry. These trials use new technologies like wearables, mobile apps, videoconferencing and other tools to ease the burden for both the sponsor and study participants and ensure better patient engagement, clinical outcomes and lower costs and timelines. 
Although we have heard many times from sponsors that these types of studies are the future of clinical research, we have only recently seen some progress in practically defining and conducting virtual studies. However, they are still far from becoming "the norm". 
Not until early 2020 when COVID-19 pandemic shook the entire world and brought the urge for change among the industry. In times when hospitals are overloaded and the staff is prioritizing virus-affected cases, research sites are halted, many medical professionals need to move to the frontline emergency rooms, trial participants are not allowed to travel to clinic sites or are not comfortable doing so, there is an obvious need for an urgent rethinking of the current clinical research landscape and taking smart action. Yet, even though the virus spread is a global threat for health systems and the future of therapeutic innovation, it has the chance to take the old paradigm, break it apart, and put it back together in a way that moves clinical trials as close as possible to the patient.
Going virtual – key steps to consider
Flipping from traditional to remote trials in the time of an unprecedented situation is something that requires smart moves, open collaboration and readiness to leverage existing technologies.  We've made a summary of the necessary steps that need to be taken as an initial response to keep research going on.
Review Regulatory Guidance
Last year, the Food & Drug Administration (FDA) included virtual trials in its draft guidance on increasing patient diversity in clinical research. A key part of the FDA's guidance is to work to reduce the amount of site visits required for a trial, urging stakeholders to re-evaluate these visits both at the individual protocol level, and throughout the industry as a whole. 
The guidance suggests we need to leverage new technology to design better trials, reaching new patients to foster a more inclusive environment which in turn will lead to better data and higher-quality trials.
After the coronavirus outbreak, FDA, the National Institutes of Health (NIH), the European Medicines Agency (EMA), China's National Medical Products Administration and several other countries issued recommendations and guidelines for sponsors to navigate the crisis during the pandemic, and are in full support of incorporating virtual services. They are focusing on providing support for patients, sites and investigators during the COVID-19 pandemic.
One of the most significant pieces of guidance relates to trial participants being unable to make scheduled visits to clinics. For those visits, FDA recommends that sponsors evaluate whether in-person assessments are necessary. If so, alternatives to clinic visits should be considered. That could include visits to locations such as labs and imaging centers, and the possibility of home visits.
FDA recommends engaging with IRBs and IECs as early as possible for any necessary changes. These changes should be in line with the trial protocol to the extent possible and properly documented. If planned on-site visits are no longer possible, remote monitoring programs should be considered. Sponsors may also want to consider adjusting trial protocols. 
From these guidelines, it's clear that regulators recognize the need for sponsors to make modifications to the conduct of their trials. Тrial changes will have to be made to accommodate the safety, well-being and needs of patients in the first place.
If you are interested in diving deeper into regulatory guidelines and also see how various countries adapt and implement these locally, we have compiled a single report with summarized recommendations and key highlights. (hyperlink the report LP once ready).
Prepare for virtual inspections
Regulatory inspections, audits and control will also be impacted. The FDA and other regulators will need to rely on virtual means to protect trial participants, verify the accuracy and reliability of clinical data, and to assess study compliance. 
Face-to-face meetings will be converted to teleconferences and online conversations. Sponsors should also not be surprised to have regulators request access to internal systems to assess trial conduct absent an in-person visit. Also, be prepared for companies working on investigational agents for COVID-19 to be receiving prompt responses from the FDA, but delays in other areas should be expected.
---
Are you looking for virtual trial vendors that can help you support your patients remotely and keep operations going? Then you need The Ultimate Guide to Virtual Trial Vendors.