As you can tell by our previous article, prevalence is high in Scandinavian countries but as the number of trials has been traditionally high as well, there are new countries getting involved in clinical trials for Atopic Dermatitis. 
This is why countries like Estonia have become a hub for research too, making it the country with the highest number of trials per million people.
In this part, we will observe more closely the Recruitment Rates of these studies looking back to all completed trials. 
Let's start with a map visualizing the regions and countries based on the Recruitment Rate of the completed Atopic Dermatitis clinical trials. 
As you can see from the legend, it varies between 0 (in countries where there were no such trials or the trials there did not provide enough data to accurately calculate recruitment rates) and 19,5 patients/site/month in the highest recruiting countries (the dark yellow). 
At TrialHub we exclude all the trials that have unrealistically high or low rates, to ensure that the final number makes more sense and excludes black swans. Of course, this can be changed easily by adding or removing trials to the list of studies that contribute to the final recruitment rate number.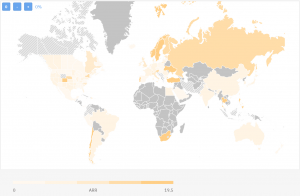 The recruitment rates per country are the average of the trials performed in each of the countries. In total the completed studies are 564. 
These rates can change if we narrow down the trials based on eligibility criteria or any other specifics (for example virtual trial components involved) or we can also add the active but no more recruiting trials. 
Looking at the highest recruiting countries, these are the top 5:

It is important to mention that all these rates are based on all sorts of clinical trials. If we are to focus on studies that target treatment, then countries like Portugal, Chile, and Sweden are on the top with their Recruitment Rates of 3.57, 3.27, 2.80 patients/site/month.

Do you need more data about clinical research in atopic dermatitis? You can get the Full Feasibility Report that includes data about Prevalence and Incidence, Competition Analysis and Past Experience as well as Sites and Investigators.
[activecampaign form=32]
---
TrialHub is a feasibility intelligence platform that supports feasibility, startup, patient recruitment and clinical project managers with a 360-degree overview of the clinical research landscape in order to plan successful and on-time clinical trials. 
TrialHub does this by aggregating thousands of data sources in real-time and combining them with local experts' insights. 
The data provided in this article is gathered in November 2020 and is based on 17 clinical trial registries (clinicaltrials.gov, eudract.ema.europa.eu etc.) and analytics about thousands of clinical trials. 
If you want to get an up-to-date and/or customized feasibility for Atopic Dermatitis or need an assessment about a different indication or TA, please contact us at patientsfirst@findmecure.com